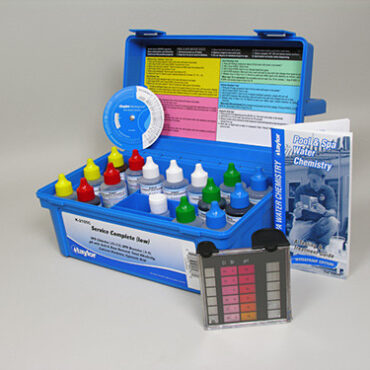 Product Description
Ideal for use by both professionals and homeowners.

For use with Chlorine pool and spa applications.

Tests for total alkalinity, free and combined chlorine.

Includes case, water guide booklet and circular watergram.

2 oz bottles provide accurate treatment doses.
Make sure your pool water is safe and clean for swimmers this season with this Taylor K-2006C Complete FAS-DPD Pool Test Kit. This kit includes tests for chlorine, pH, acid and base, alkalinity, calcium hardness and cyanuric acid. This Taylor Pool Test Kit also comes with a heavy-duty case, and each solution comes in a 2-ounce amount. The complete set also includes a waterproof copy of the Pool and Spa Water Chemistry Guide to make sure you know your water is safe. As the larger size of the popular K2006 test kit, the Taylor K-2006C Complete FAS-DPD Pool Test Kit will help maintain your pool all season.
| | | | | |
| --- | --- | --- | --- | --- |
|  Component |    | Description |    | Quantity  |
|  2004B |    | BOOKLET   |    | 1  |
|  5136 |    | INSTRUCTIONS  |    | 1  |
|  6035 |    | FOIL SEAL STARBURST   |    | 1  |
|  4047 |    | CASE  |    | 1  |
|  7049 |    | CASE HANDLE   |    | 1  |
|  7294 |    | LABEL  |    | 1  |
|  8026 |    | KIMPAC   |    | 1  |
|  9057 |    | 2000 SERIES COMPARE, BR& CL   |    | 1  |
|  R-0001-C |    | DPD RGT #1, 2 OZ   |    | 1  |
|  R-0002-C |    | DPD RGT #2, 2 OZ   |    | 1  |
|  R-0003-C |    | DPD RGT #3, 2 OZ   |    | 1  |
|  R-0004-C |    | PH IND SOL, 2 OZ  |    | 1  |
|  R-0005-C |    | ACID DEMAND RGT, 2 OZ   |    | 1  |
|  R-0006-C |    | BASE DEMAND RGT, 2 OZ   |    | 1  |
|  R-0007-C |    | THIOSULFATE, 2 OZ   |    | 1  |
|  R-0008-C |    | TOTAL ALKALINITY RGT, 2 OZ   |    | 1  |
|  R-0009-C |    | SULFURIC ACID, 2 OZ   |    | 1  |
|  R-0010-C |    | CALCIUM BUFF LIQ, 2 OZ   |    | 1  |
|  R-0011L-C |    | CALCLIUM IND LIQ, 2 OZ   |    | 1  |
|  R-0012-C |    | HARDNESS RGT, 2 OZ   |    | 1  |
|  R-0013-C |    | CYANURIC ACID RGT, 2 OZ   |    | 3  |