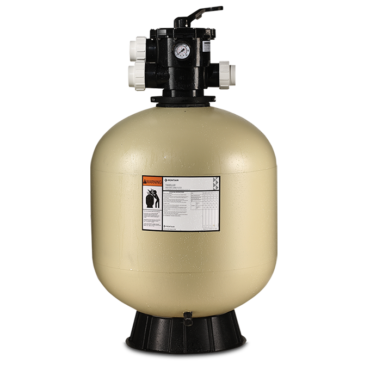 Product Description
Pentair Tagelus TA60D Top Mount Sand Filter 145385
Sand filters have been installed on tens of thousands of pools for decades—a testament to their performance, value and ease of use. But not all sand filters are equal, because not all include design features that continuously flatten and level the sand inside the tank. This is the key to consistent performance and quicker cleaning cycles that keep pump operating costs low. It is also a key advantage when you select a Tagelus fiberglass sand filter.
The Tagelus tank is constructed in one piece from fiberglass-reinforced material to deliver unmatched strength and durability for years of service. The six-position Hi-Flow valve has a manual air relief valve and a sight glass to make inspection, routine maintenance and operation fast, easy and always safe. Pressure gauge also included.
Tagelus Sand Filter Features:
2″ Top Mount Valve for improved flow and efficiency.
2″ Quick-Connect unions provide easy access for fast service and installation.
No internal threads-quick-connect unions eliminate port cracks.
3.1 Square Feet Effective Filtration Area
60 Gallons Per Minute Flow Rate
325 Lbs of Sand Required (Not Included)
Constructed in one piece from fiberglass-reinforced material, filter is strong and durable.
Six-position Hi-Flow valve. Pressure gauge included.
Special "diffuser" creates a uniform sand bed for more effective filtration and longer times between backwashing.
Dimensions:
24-1/2″ DiameteX 25″ Width X 42-1/2″ Height
Pentair TA60D
Pentair 145385